DoD CIO Issues DoD Manual 8140
On February 15, 2023, the Department of Defense Chief Information Officer (DoD CIO), Honorable John Sherman, issued DoD Manual (DoDM) 8140.03 Cyberspace Workforce Qualification & Management Program, the third issuance of the DoD 8140 policy series.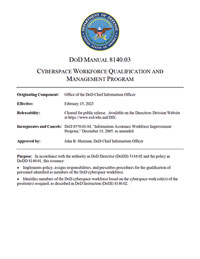 "[DoD 8140] provides a targeted, role-based approach to identify, develop, and qualify cyber personnel by leveraging the DoD Cyber Workforce Framework (DCWF)," said John Sherman, DoD CIO, during his April 2021 testimony to the Senate Armed Services Committee. "The [policy series] will require workforce members to demonstrate a foundational understanding at the work role level while also addressing personnel capability and continuous professional development at the work role level. Through these mechanisms, we will be able to track and manage cyber workforce capabilities across the DoD enterprise."
The Cyber Workforce Qualification Program modernizes DoD talent management, allowing for more targeted and flexible approaches within the cyber human capital lifecycle.
The DoD 8140 Manual replaces the DoD 8570 Manual, "Information Assurance Workforce Improvement Program," which focused solely on qualifying a section of the cybersecurity workforce centered on information assurance and computer network defense professionals using a narrow set of requirements. With the implementation of the DoDM 8140.03, DoD Components will have a broad set of options to manage and achieve a qualified cyber workforce in the areas of information technology, cybersecurity, cyber effects, cyber intelligence, and cyber enablers.
"The 8140 policy series unifies cyber workforce development efforts under a common umbrella and facilitates greater mobility across population types," said Patrick Johnson, Director, Workforce Innovation Directorate. "The manual will guide the Department's ability to verify and advance capabilities for all 225,000 DoD cyber workforce civilians, military personnel, and contractors. Together, the upcoming DoD Cyber Workforce Strategy and DoD 8140 will enable the DoD to develop and deploy an agile, capable, and ready cyber workforce."