REGISTER FOR YOUR ACCOUNT TODAY
Open Now: Providers of Training Courses, Certifications, and Academic Programs, Apply for the DoD Cyber Workforce Qualification Program
News: DoD CIO Issues Cyber Workforce Strategy 2023-2027 and Implementation Plan
News: DoD CIO Issues DoD Manual 8140
Learn More About the DoD Cyber Scholarship Program
Learn About the Cyber Information Technology Exchange Program
If you are a Department of Defense component agency or a private sector company, NGO, or academic institution, and wish to learn more about participation in the DoD's Cyber Information Technology Exchange Program (CITEP), please click on the applicable button below and fill out the interest questionnaire for submission to the DoD Office of the Chief Information Officer.
2023 Cyber Workforce Rotational Program is open for DoD employees
PUT YOUR SKILLS IN THE
DoD TALENT MARKETPLACE.
The DoD Emerging Technologies Talent Marketplace is different from other government hiring job sites. Here's why:

No application process for positions – Register once to be considered for opportunities that fit your preferences and skills

No tailored résumé required – You can attach it, but we offer many other ways to prove your skills and accomplishments

AI Smart Match – Our AI ensures you are matched with roles that match your skills and interests

No guess work – Our Essentials Questionnaire will walk you through everything you need to be part of the Talent Marketplace

Experienced federal recruiters – Candidate & clearance coaches provide guidance

Access from anywhere, any device – It's easy!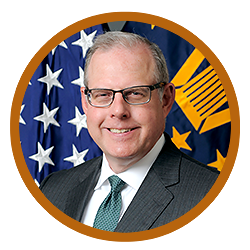 "

The DoD CIO is focused on a strategy that attracts high-demand skill sets while encouraging increased representation of minorities and women. . . . Unlike traditional Federal hiring platforms, the Talent Marketplace platform enables an understanding of each candidate's unique preferences to enable a Smart Match of candidates to the jobs that align with their needs and desires.

"
DoD employs nearly 1 million civilians, many serving in critical positions domestically and internationally. There are a myriad opportunities requiring a diverse range of skills in the emerging technologies communities of cybersecurity, artificial intelligence, machine learning, data science, and software development. As a civilian in DoD, you play an important role in the defense of our Nation and in supporting our Armed Forces. Display your skills in the DoD Emerging Technologies Talent Marketplace and pursue your future with a diverse, challenging, and rewarding DoD civilian career.

DoD EMERGING TECHNOLOGIES TALENT COMMUNITIES
Learn about the work communities for civilian cybersecurity jobs and artificial intelligence jobs within the Department of Defense
DoD CIO WORKFORCE INNOVATION VIDEO
A Message from DoD CIO John Sherman on the DoD Cyber Workforce Strategy 2023-2027